Each week from the start of the season until the P.I.A.A. State Finals, Pittsburgh SportsNation will bring you uncensored, no holds barred predictions by our local high school football guru who goes by the moniker "P To The Power of 2". He is one of our underground writers who covers the hard hitting action in W.P.I.A.L. High School Football in Western Pennsylvania. Or is it she...? Either way, we'll never tell!
Here we now are, how quickly we have arrived to the PIAA State SemiFinals….The Final 4 of each classification….only 8 teams of the 16 will advance to Pennsylvania's version of "Title-Town" which we call "Chocolate-Town"….Hershey!....Last week PToThePowerOf2 posted a PIAA Quarterfinal record of 11 victories and only 5 losses….taking the 2015 postseason total to a record of 68 victories and only 14 defeats, 82% and then the 2015 total campaign to 143 victories and only 29 defeats, 83%...and you clowns continue to doubt the expertise of PToThePowerOf2….we move along now….excellent contests await us this weekend….as always….Let's Get To Work!
District 1 Champion Upper Dublin Cardinals (14-0) vs District 11 Champion Parkland Trojans (13-1)
This contest will take place on Saturday, the 11th at 1:00pm from Souderton High school. The Upper Dublin Cardinals took down North Penn last week by the score of 46 to 21 and the Trojans of Parkland defeated LaSalle, 16 to 13. The Cardinals will look to QB Ryan Stover who has thrown for 2,291 yards this season and has thrown for 26 touchdowns and only has thrown 6 interceptions. Cardinals RB Kaleif Lee has rushed for 1,024 yards and has crossed into the endzone 19 times. A trio of wide receivers will be the target of Mr. Stover with WR's Jack Rapine, Danny Boggs and Cole Swiger who have combined for over 1,000 yards and 11 touchdowns. Might not seem like much, but the Cardinals can pass the rock. Parkland enters with a D1 size offensive line averaging 6'3, 275lbs. Led by dual threat QB Devante Cross who has rushed for 1,343 yards, thrown for 2,294 yards and has 21 touchdowns. The Trojans are averaging 30 points per game. PToThePowerOf2 sais…..
Parkland over Upper Dublin

District 7 Champion Central Catholic Vikings (14-1) vs District 3 Champion Cumberland Valley Eagles (13-2)
Another Saturday contest to take place at 1:00pm from Mansion Park Stadium in Altoona…aka, The Bone Yard…Central Catholic enters by defeating State College, 19-3. Cumberland Valley won in the 7th overtime, on a 2point conversion to defeat Central Dauphin, 62-61. The Eagles of Cumberland Valley are led by QB Josh Ferguson who has thrown for 10 touchdowns and 911 yards. Eagles RB Joey Heikel has rushed for 956 yards and has 14 touchdowns. Central Catholic is led by RB Ronnie Jones who has 1,352 yards and has 17 touchdowns. Vikings QB Troy Fisher has thrown for 13 touchdowns and has 1,212 yards. PToThePowerOf2 sais that the 7 overtimes from last weekend will hurt the eagles….hangover…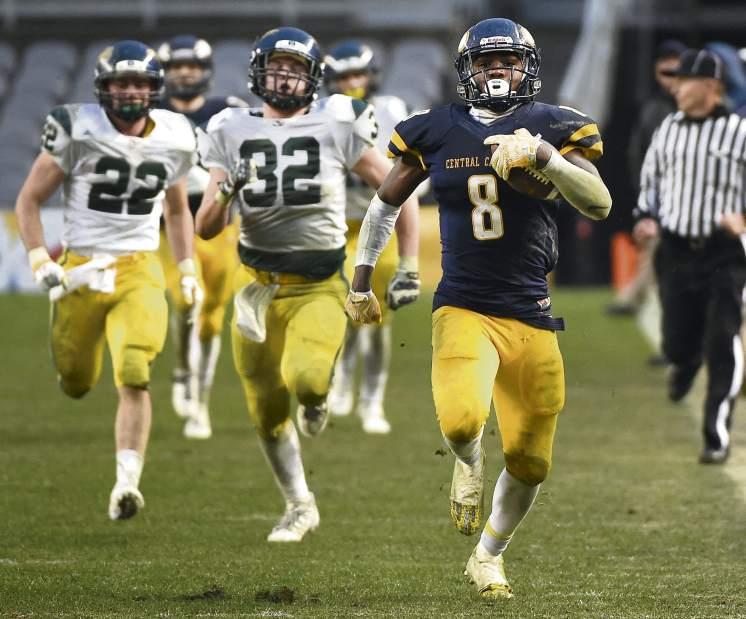 Central Catholic over Cumberland

District 10 Champion Erie Cathedral Prep Ramblers (13-1) vs District 3 Champion Bishop McDevitt Crusaders (13-1)
From EJ Mansell Stadium in DuBois, where Michael Jackson is buried….Friday night at 7pm. The Ramblers of Cathedral Prep enter by defeating Thomas Jefferson, 28 to 21 last week. The Crusaders defeated Susquehanna, 33-19. Cathedral Prep is led by QB Joseph Mischler who has thrown for 1,004 yards and has 16 touchowns on the season. The 3 headed monster of tailbacks are Ta'nauz Gregory, Sullivan Johnson and Chris Muldrew who have combined for over 2,300 yards and 29 touchdowns. The Crusaders will look to counter with their QB Tayvon Bowers who has thrown for 3,224 yards and 39 touchdowns. RB Michael Jones has rushed for 1,453 yards with 18 touchdowns. Bishop McDevitt will also lean on WR Kobay White who has 1,240 yards receiving and has 13 touchdowns. This game will become a trench war. A toss up….PToThePowerOf2 sais....
Bishop McDevitt over Erie Cathedral Prep

District 2 Champion Saucon Valley Panthers (14-0) vs District 12 Champion IMHOTEP Charter Panthers (13-0)
Friday night, 7:00pm from Bethlehem High school. Saucon Valley enters by defeating Selinsgrove 35 to 7. IMHOTEP defeated Academy Park, 46 to 16. Saucon Valley will look to star RB Evan Culliver who has amassed an amazing 2,861 yards this season with 45 touchdowns. QB Zach Thatcher has thrown for 1,110 yards with 13 touchdowns. IMHOTEP shook up the bracket two weeks ago by taking down the goliath of class AAA, defeating Archbishop Wood, 20-14. Well,
the list begins with the 6-foot-5, 337-pound offensive lineman Yasir Durant, the four-star recruit who holds 20 Division I offers, including ones from Auburn, Michigan, Oklahoma, UCLA, Virginia Tech and Wisconsin. Then there's the 6-foot-3, 193-pound defensive end/linebacker, Shaka Toney who is verbally committed to Penn State .Not to be outdone is the 6-foot-2, 238-pound tight end Nashir Upshur, another four-star recruit bound for Florida State. The 5-foot-9 running, 170-pound RB Tyliek Raynor is headed to Arizona. That's only getting started, there is the 6-foot-5, 272-pound offensive lineman, Jahmir Johnson, with offers from Illinois and Temple, the 6-foot-3, 215-pound defensive end, Andre Mintz, with offers from Army, Duke and Pittsburgh, the 6-foot-6, 338-pound offensive lineman, Johncarlo Valentine, being recruited by Arizona State, Rutgers, Texas Tech and North Carolina, only to name a few, the 6-foot-7, 342-pound offensive lineman Justin Johnson with an offer from Texas Tech, by the way, he's only a sophomore!...And a 5-foot-10, 180-pound safety, Justin Harris, another sophomore, already with offers from Temple and Wisconsin. Good luck…..PToThePowerOf2 sais…
IMHOTEP over Saucon Valley
District 7 Champion Aliquippa Quips (14-0) vs District 6 Champion Central Martinsburg Dragons (13-1)
Friday, 7:00pm from Hempfield High school. Aliquippa enters by escaping Karns City, 27-17. Central Martinsburg defeated Hickory, 30-21. Dragons QB Noah Benton has thrown for 2,086 yards and has 23 touchdowns this season. RB Alex Hoenstine has rushed for 1,408 yards, has 670 yards receiving and has 38 touchdowns. WR Justin Helsel has 932 yards receiving with 10 touchdowns. Aliquippa will look to star RB Kaezon Pugh who has rushed for 2,185 yards with 31 touchdowns. QB Sheldon Jeter has tossed the rock for 1,473 yards and has 28 touchdowns. PToThePowerOf2 will continue to ride his favorite team…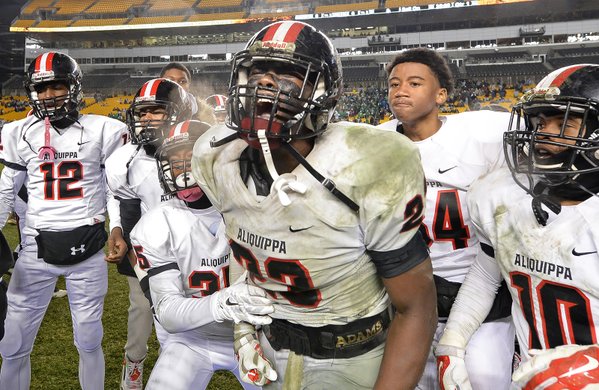 Aliquippa over Central Martinsburg
District 12 Champion West Catholic Burrs (11-4) vs District 4 Champion Southern Columbia Tigers (14-0)
Saturday, 1:00pm from Northern Leigh High school…West Catholic enters by defeating Dunmore, 28-10. Southern Columbia defeated Berks Catholic, 34-21. West Catholic spread offense will be lead by QB Josh Evans who has thrown for 2,504 yards and has 24 touchdowns. TB Calil Wortham has rushed for 902 yards. WR Craig Jones is averaging 28.6 yards per catch. Southern Columbia will counter the aerial assault from West Catholic with their trio of backs. Tigers RB Hunter Thomas has rushed for 1,457 yards and has 23 touchdowns. RB Blake Marks has 994 yards rushing and 16 touchdowns. FB Jared Torres has 901 yards and 14 touchdowns. A close one, Southern Columbia gets it done….PToThePowerOf2 sais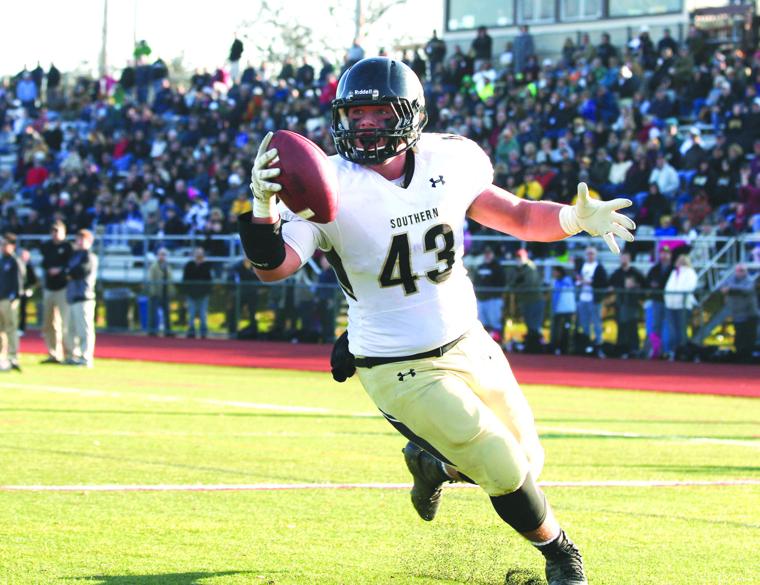 Southern Columbia over West Catholic
Bishop Guilfoyle over Old Forge
See yous next week for the FINALS!